Retaining Walls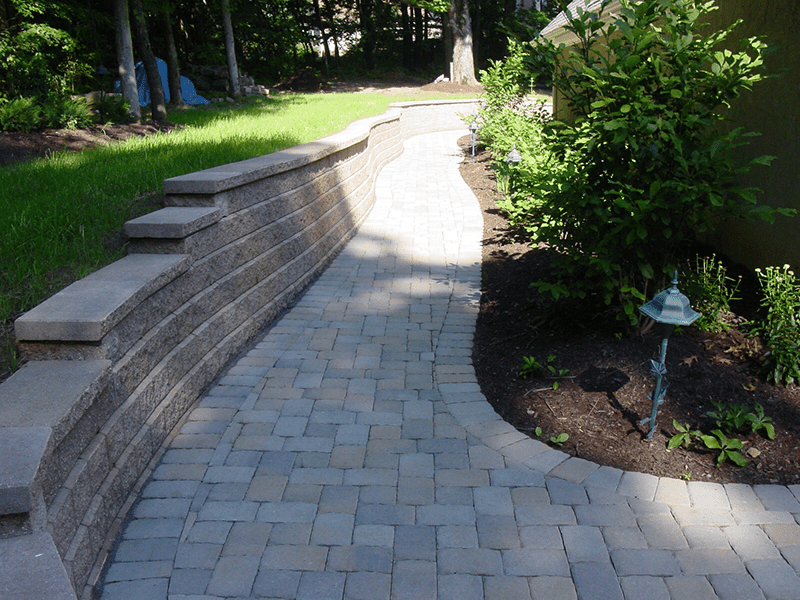 Add beauty to your hillside with a retaining wall built with segmental retaining wall blocks. Eastern Sky Landscaping also installs proper drainage behind the wall, which is critical for wall longevity.
Retaining walls can be used to . . .
Add design and aesthetic appeal (for example, to enhance a garden bed or add several layers or dimension within your landscape)
Drainage or erosion control
Structural or functional purposes (for example, to take advantage of more space in a sloping or uneven yard or to add seating to a space)
Types of retaining walls:
Interlocking Block

This type of retaining wall uses man-made, interlocking blocks of concrete or stone to build a relatively strong wall and are particularly good for curved and sculpted wall designs. They are all-weather and pest resistant with long-lasting appeal.

Brick

Brick retaining walls have the same versatility as blocks and come in a variety of colors and sizes to enhance the home's surroundings and add continuity and durability. They need little maintenance after erection and complement traditional and contemporary architectural schemes.

Natural Stone, Split Stone, Cut Stone and Boulders

Natural stone walls are made by dry stacking stone to create a rustic look and style that complements many landscaping designs. They can be used for curvilinear designs with long-lasting attractiveness. Rock is unaffected by water and pests and is fire-resistant, so it can last for centuries. Plus, no two walls are alike, giving them an exclusive character.

Wood

Wood retaining walls typically involve pressure treated lumber posts that create a sturdy and natural looking wall to retain soil and create a level area while reducing erosion.

Segmental Retaining Walls (SRW)

Segmental retaining walls are becoming popular because they can be built quickly, cutting down on labor costs. They prevent caving, sliding or slumping of slopes around properties and enhance the safety of your hardscapes and softscapes as well as family and guests. SRW eliminates the need for concrete footing, and they offer attractive and practical choices in terms of colors, sizes and textures.
| | SRW Blocks | Brick & Mortar | Concrete Blocks w/ Stone Veneer |
| --- | --- | --- | --- |
| Cost | $$ | $$ | $$ |
| Easy Repairs | X | | |
| Wall Strength | High | Low | Low |
| Warranty | X | | |
| Curvable Design | X | | |
Questions to Consider
Is this for decorative or erosion purposes?
Are you wanting to create more living/parking space in your yard?
Will there be steps incorporated?