Paver Patios and Seating Walls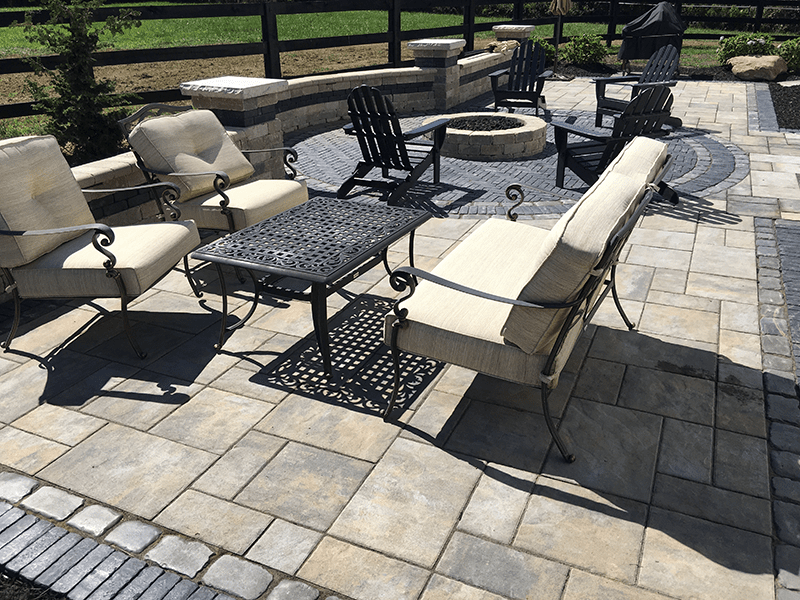 Building a patio is an easy way to add outdoor space to your home and improve your home's value. It's been reported that 85% of the cost of building can be recouped during resale. A well-designed patio provides an entertaining option, getting people out of the house and into the sun.
A nice patio is an extension of your home, so it should be just as stylish and make you feel great about being in your backyard. Eastern Sky Landscaping designs and builds patios with traditional masonry products such as flagstone; however, the most popular material for creating hardscaping elements and features such as patios, is pavers.
Pavers are man-made stones designed to fit or inter-lock together. Because they come in many sizes, shapes and patterns, you can achieve any look for your paving application. Pavers are extra strong and durable, resistant to cracking or chipping. They do not fade and can withstand snow and ice as well as wear and tear from regular use, so they provide long-lasting beauty. Pavers have a smooth, skid-resistant and slip-resistant surface making them perfect for driveways, walkways and pool decks. Because they are made from ultra-fine sand granules and high quality cement, pavers do not have unsightly holes or blemishes on the surface, and they require minimal maintenance.
Seating walls are functional while adding another dimension to an otherwise flat surface.
| | Pavers | Concrete | Asphalt | Gravel |
| --- | --- | --- | --- | --- |
| Cost | $$$$ | $$$ | $$ | $ |
| Maintenance | * | *** | *** | **** |
| Aesthetics | ***** | *** | ** | * |
| Won't Crack | X | | | |
| Won't Chip | X | | | |
| Easy Subsurface Repairs | X | | | |
| Warranty | X | | | |
Questions to Consider
Do you want a private, intimate space for 2 – 4 people or an outdoor space equipped to throw a party?
Will you want tables and chairs or recliners to relax in the space?
Do you want to create two or more spaces, one for intimate conversation and another for entertaining?
Should it be accessible to certain areas of the house?
Do you want a view?
How private should the area be?
Do you want to add accessories to the patio space, such as water features, pergolas, or a swimming pool?